The win was sweet. The score was great, too. But nothing was better than watching a near-psychotic Chris Neil skate by the Pens bench and the Penguins just laugh in his pathetic face.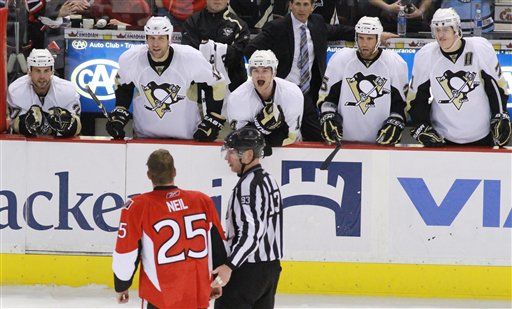 You know Granato's blood is boiling.
The Pens have broken the Senators' will to live.
Bill Elliott basically shit himself on national TV.
And Daniel
Alfredsson
is just a baby.
But, really, the story is Sidney Crosby and
Evgeni
Malkin
defying ordinary.
Crosby's goals were sweet, but how sick was the pass he made to
Kunitz
for the sixth goal of the game.
Two guys in his mouth. Outsmarts them, then delivers it to the
Koon
.
Geno
added another goal, as well.
4 goals in 4 games. We'll take that throughout the playoffs.
And then we get to mention Jordan
Staal
.
Recently nominated for the
Selke
as top defensive forward.
Now the scene moves from Ottawa to the Mellon for a Casket Match.
Personally, our lives would be complete if someone
went to the game on Thursday dressed as The Undertaker.
If we posted every
pic
and
photoshop
we got, the blog would look like a war zone.
We don't have favorites. We just put up
whatev
.
Every
photoshop
,
pic
, etc. we get is in our
Picasa
Web Albums.
And that, too, is a war zone. Just click Charlie's face above to check it out.
Great performance by Carroll T.
Sens
came out early and were reminding the Pens they were only halfway to winning this series.
Andy Sutton almost breaks Talbot in two along the benches.
Tang and Mr. Underwood have a huge midair
collison
.
After a whistle, Chris Neil starts being a dick.
The Pens wind up with a PP out of it.
If it's a run-of-the-mill tripping call, it doesn't mean as much.
But with Chris Neil being a fool, the Pens had to make him pay on the PP.
No clue why anyone would punch the goalie in the face like Neil did with
MAF
.
But Brian Elliott made a stand. Beautiful kill for the
Sens
.
Too bad there was like 50 minutes to play.
Pens get away with a penalty when they slash a
Sens
stick.
Then the Pens were on another PP.
And they didn't squander this opportunity.
Malkin
one-timer city from
Jagrville
.
1-0.
What a play by
Gonch
to set it up.
Crosby has a great shift, but takes a slash.
Jay
Mckee
has the penalty kill of the century. Huge moment for him.
** STANDINGS ARE NOW AVAILABLE **
** STANDINGS ARE NOW AVAILABLE **
If this was
GeoCities
, that text would be blinking.
As the developers put it, it's not silk yet, but the standings are available.
"Follow" feature is available.
Search function coming Wednesday night probably.
Go to the
RINKO

BLOG
for a quick look at how to navigate the standings,
although you'll be able to figure it out on your own.
You're either in the Bombay Division, Hans Division, or Kenny
Wooooo
Division.
Early in the second period, the Senators officially came unglued.
A horrible turnover by
Spezza
sends the Pens the other way.
Eventually
Kunitz
knew he just had to get the puck to an empty space, and Sid would get it.
Sid one-times it through the five-hole.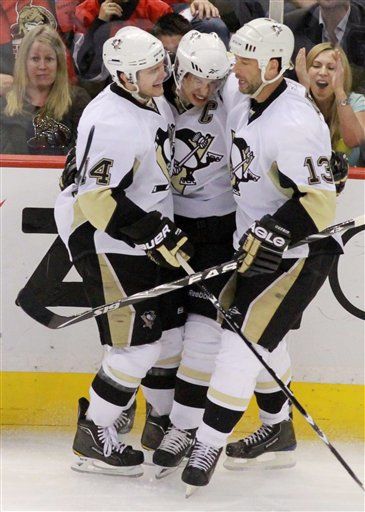 2-0.
Before you can finish typing out some Tweet about the goal, Talbot feeds Cooke.
3-0.
Trust Fund calls a timeout to rally whatever morale was left on the bench.
And they didn't come away from that timeout any differently.
Three minutes after the Cooke goal, Crosby goes down the wing and wrists one. 4-0.
Elliott was officially broken, Jim Carey style.
Trust Fund even looks like a dick when he makes goalie changes.
The Pens may have taken a shift off after the goal, and they paid.
Chris Neil puts one home. 4-1. And then goes to the box? Wow.
No clue what Trust Fund was writing on his little pad after that goal and penalty.
Probably making a
rought
draft of his
resumé
.
The goalie change, the goal, and the kill started infusing some life in the
Sens
.
And the scary part was the game still wasn't halfway done.
Uh-oh.
Alfredsson
makes his first appearance.
Looked like a
powerplay
.
4-2.
Then things get interesting. In the playoffs, you need a little bit of luck.
After
Staal
gets called for a penalty, Cullen slams Candy into
theboards
.
The puck sneaks out to
Spezza
. He winds up. No one in front of him.
Whistle.
The glass came loose on the Cullen/Candy
collison
.
Play whistled dead. Momentum done.
Before the
Sens
have time to bitch, Adams leads a shorthanded charge up ice.
Max Talbot puts home a big one.
5-2.
And it was big because the
Sens
had a 5-on-3 coming.
Some guy gets a chance, goal. 5-3.
Pens killed the remainder of that penalty.
Then things relaxed a bit.
And then the Senators made another mistake.
Ruutu
and Neil are on the ice against Crosby for some reason.
Bing springs the rush, and then somehow makes a nasty pass to
Kunitz
.
6-3.
The Senators give us a treat and get caught with too many men.
Nothing doing on the
powerplay
.
And that closed out an 8-goal second period.
Wait, where's the
Staal
shirt? Oh. There it is.
Pens continue with the
powerplay
but can't really do much.
Ottawa takes another too-many-men penalty.
Regardless of your sexual orientation,
that look on the dude's face on the far right is just bad news.
Time just keeps ticking down, until the refs get
Kunitz
for a penalty that may or may not have happened.
Matt Cooke follows up with a penalty. Shit.
Spezza
finally scores the easiest goal of his life. All of a sudden
6-4.
But finally things start to settle down a little bit, and time starts to tick away.
Expert takes a penalty because he sucks.
Late in the
powerplay
,
Kunitz
shoots the puck over the glass in his own zone.
Indisputable fact.
We heard he saw Big Ben entering a bathroom and tried to stop it.
Either way, no call.
Seconds later, Jordan
Staal
sends the Ottawa faithful packing with a rebound goal over
LOLeclaire
.
7-4.
Then the cheap shit starts.
Rutuu
and Neil up to their old tricks.
Beard disapproves.
Game.
Poni

had a strong game.
Pens 10-0 when Talbot scores a goal in the playoffs.
Huge announcement coming from us about a new

partership

with

Qdoba

.
Another post coming sooner rather than later.

wooo