Definitely a tough loss, but what a hockey game.
You have to assume these two teams will once again meet in the playoffs and what a series that will be.
Ovechkin
is as obnoxious as they come, but he delivers.
He's a dangerous player.
NBC definitely got what they wanted from this game.
Ovechkin
had three goals and an assist.
Crosby and
Staal
had two each.
It's tough to blow a 4-1 lead but the hockey fans inside of us still enjoy an exciting game.
The Penguins fans inside of us vomited a bit when the 5th goal went in.
Ed
Olczyk
isn't there due to the snow so Doc
Emrick
tells us a story about how the Pens stopped at Burger King in the middle of the night.
Kunitz
is back in the line up, alongside Crosby and
Guerin
.
The Penguins equipment staff (and Ray
Shero's
son) slept in the arena overnight. No one knows if they were awoken by sirens, bells and whistles.
Sidney Crosby is booed every time he touches the puck.
Gonchar
is hearing "Whoop! Whoop! Whoop!" noises every time he touches the puck.
Ovechkin
gets a shot off, but it deflects off of
Orpik's
stick.
The crowd boos.
Malkin
owns the world for a while and he moves in on Theodore. He can't get it past him.
Then it's Sid's turn to dominate. He makes most of the Capitals look silly and scores. 1-0.
It's his 38th of the year and it's unassisted.
Three minutes later he scores again. 2-0.
Chris
Kunitz
pulls out a gun and he shoots Jose Theodore in the face.
No… wait… that's just how Theodore reacted.
Kunitz
is called for interference and it's a Capitals
POWWWWEERRRRRRRRRPLLLLAAAAAAAAAYYYYY

!!!!
The penalty is killed.
Adams drops
Ovechkin
against the boards. Everyone in the crowd is suddenly a referee.
No call.
Knuble
takes on Adams and the two both get fighting penalties.
Knuble
gets the instigator.
"Refs You Suck!"
Nothing happens with the man advantage.
Nothing in the world could make us pay attention to Pierre McGuire and Mike
Milbury
during the intermission.
We assume they yelled at each other and then showed a few Crosby VS.
Ovechkin
promos.
Almost immediately
Gonchar
gets a holding call and the Caps are on the power play.
Not much happens.
Things start to get
chippy
and the number of hits increase.
Dan
Bylsma
responds by putting Mike
Rupp
out with Crosby.
He gets a couple scoring chances.
Jizz
is called for holding.
Again, not much happens and the penalty is killed.
Ovechkin
comes charging in on
Fleury
with a breakaway.
Our thoughts head back to game seven and
Fleury's
save.
It is not to be. 2-1.
Sirens and whistles and bells and music and horns.
Pierre McGuire has an orgasm over the fact that
Ovechkin's
shot broke the net cam.
An "MVP" chant starts in the arena.
Pierre McGuire does an interview with Dan
Bylsma
.
We'd comment on what was said but, at this point, we're just blocking out everything McGuire says.
Orpik
skates into the Caps zone, and he's hit with a nice hip check by
Pothier
.
Cooke/
Staal
/Kennedy begin to work their magic.
Boom.
Jordan
Staal
scores.
3-1.
What a player. The Internet has no picture of this because it wasn't scored by Crosby or
Ovechkin
.
The Caps looks frustrated and start a scrum in front of the net. We're not sure what happened with
Letang
, and NBC doesn't show us, but two Caps go after him. Kennedy jumps in.
Backstrom
and Kennedy both get 10 minute
misconducts
.
Bruce
Boudreau
freaks out, managing to look incredibly angry and completely confused at the same time.
Dan
Bylsma
is calm and professional.
Just over two minutes later,
Malkin
does a great job setting up
Staal
in front.
4-1.
It seems like all is well in the world. We start thinking about how nice it will be to beat the Caps in their own building. Visions of stopping their winning streak enter our minds.
Damn.
Great play by Eric
Fehr
.
4-2.
We're not sure what happened, but Crosby was hurt off of the
faceoff
.
NBC gives us a shot that will be used in hundreds of "Crosby is a Baby"
Photoshops
.
Semin
and
Poti
both get penalties and the Penguins are on a 5-on-3. A goal here would end this game. It never comes.
Pierre McGuire sees nothing wrong with shoving a man down face-first and forcefully holding him there.
We're not surprised.
We've been swamped over the past few days and half of the people that write for this blog haven't had power.
We'll announce the
Habs
Twitter winner as soon as we can.
The Caps kill off the remaining seconds of the 5-on-3 and there's a bad feeling in the air. Mike
Millbury
is doing commentary now.
We find ourselves blocking out everything NBC is saying. It's easier than listening to McGuire and
Millbury
.
Cooke
crosschecks
Ovechkin
from behind and it looks like
Ovi
stays down for a bit.
No call.
The Caps start to pressure, but
Fleury
stands tall. Some great saves there.
Then
Ovechkin
scores.
4-3.
That bad feeling remains. You knew it was going to happen. You just knew.
4-4.
Every Capitals blogger rushes to write a "Sidney complaining about the hats" joke.
Matt Cooke breaks his stick and the Capitals are called for slashing.
We'll take it.
The Pens pressure, but they can't score on the power play.
The Penguins are buzzing as the period comes to a close.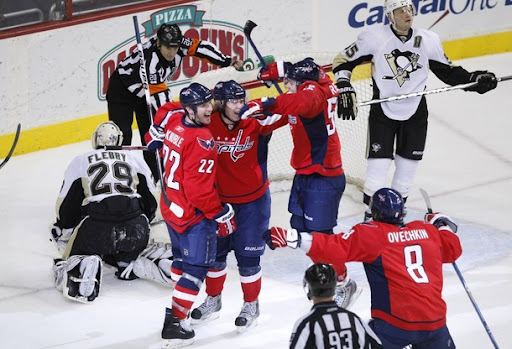 GAME.
It was a tough game to lose.
But what a hockey game.
We'll take the point.
These two teams meet again on March 24th.