— JACOB N. —
Cheechoo may be in the lineup for Ottawa tonight.
Shean Donovan might be, too.
We want nothing to do with Shean Donovan.
Probably the best picture in the history of the blog.
From VINCENT B.
After the jump, some more PS's and a Tuesday With Stoosh.
And an awesome find by reader GREG N. in regard to an advertisement on the boards.
Think we saw this in the comments or on Twitter somewhere.
But the company BELL has an interesting advertisment on the boards in Canada.
The beard on the face grows throughout the game: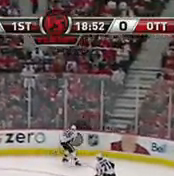 Replay of Crosby's goal.
Speaking of boards, on NHL 10…
Brian S.
ADAM V.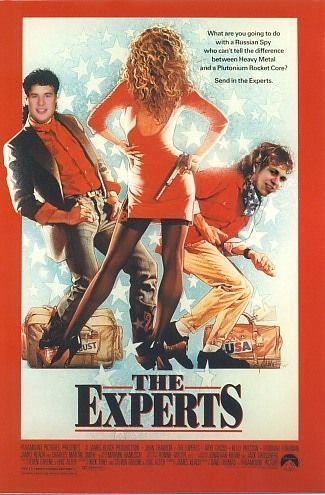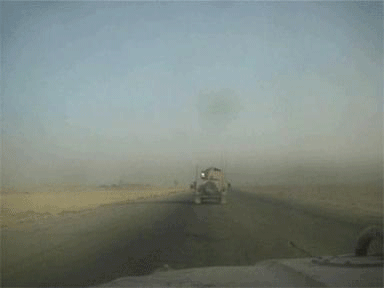 GINVOLUTION
nate k.
solid effort by HERK
Commentor Stoosh has been around quite a while.
He even has a shirt in Storeblog.
He's banged out beastly Homer-esque comments with a high level of consistency.
Only fitting to give him the reins.
I'll preface everything you're about to read by noting that Pens-Sens is only heading into Game Four and there is plenty of hockey left to be played in this series. So as not to anger the hockey deities, under no circumstances am I writing off the Senators. After all, I'm not an expert.

However…
The topic du jour heading into the postseason was the Pens' collective ability to flip the switch. Or play a complete game. Or go out and play sixty minutes of hockey. Or increase their battle level, which sounds more like something you'd hear in a World of Warcraft or Final Fantasy game, but hey, them's Dan Bylsma's words and I'm not an expert.

It may have been a Game One loss in which the Pens looked mostly drunk. It may have been the elbow to the…oops, I mean hit to the head deliv…whoops…um, I mean "LEGAL SHOULDER CHECK" delivered by Andy Sutton that knocked Jordan Leopold into a rent payment in Lindrostown.

Whatever the underlying cause may have been, I think it's safe to say after three games and a two-games-to-one series lead that the Pens have effectively found whatever switch there was that needed to be flipped and done just that. I'm no expert, but I think it's safe to say that.

I think anyone who was concerned heading into the postseason was justified in those concerns given the way the team looked some nights. I also think those of us who attempted to objectively voice said concerns wanted nothing more than to be proven wrong or, at the very least, that we were worrying for nothing. To this point, so far, so good. But I'm no expert.

That said, I know I had no real idea what to expect from the Pens. I know what I HOPED to see – which is exactly what we've seen over the last couple of games in this series. Crosby is taking his game to yet another level. Geno's about one unreal backhand away from making any Canes fans still watching the playoffs catatonic. Fleury realized that it's late April and has begun the Patrick Roy/Ken Dryden séances again. But I've also seen plenty of teams in the past coast into the playoffs and bow out early because they were never able to raise that level of play to what we're currently seeing from the Pens. Hell, you could start that list with San Jose Sharks teams and get halfway down the first page before you name another team.

Switch now flipped, some of the local media – like they sheep they are – began asking the obligatory, "Well, where was this all year?" question.
I think it's this simple:
Most of the guys on this Pens team have seen two straight Stanley Cup Finals. And, no one – not even Crosby – can artificially manufacture the playoff-caliber desperation/urgency on some random game against the Florida Panthers in the middle of February.

I know these guys are pros and there's this romanticized notion that they're supposed to bring that top-notch intensity like that every night. But that's just not going to happen over an 82-game season, at least not all the way through the roster.

Much was made of the push for a division title, but as this brief playoff run has already demonstrated, all that may matter is getting your team into the top eight in your conference at the end of the regular season. San Jose & New Jersey, I'm kind of looking in your direction here.

Unlike last season when the Pens' playoff run essentially started the day Bylsma took over, this Pens team came out absolutely flying in October, playing that intense, playoff-caliber hockey right out of the gate. They took 22 of their first 28 points in October and 41 of their first 60 points through December. In doing so, the Pens set themselves up to play out the stretch in "this is a marathon, not a sprint" mode. For a team that appeared to be geared more for playoff hockey than regular season hockey, this was huge.

Not saying that this was by design or anything. As was mentioned above, I think it just kind of happened as the season wore on. Call it the natural progression of a long season made even longer by Olympic hockey and a condensed NHL schedule that forced teams to play lots of four-games-in-six-night stretches.
Will it work? Who the hell knows?
I'm not an expert.

Thoughts, dudes…
One tangent to this whole notion? You could argue that there WAS one team this year who made an effort to bring that high-energy effort every night and that was the Caps. Sweaty Uncle Teddy made no secret of his desire to see his team take that vaunted Presidents' Trophy. His team pushed hard to get it and succeeded in doing so, but at what cost? The Pens hit the playoffs on an unreal clip last season, but did so after playing that kind of high-intensity hockey for two months prior to the start of the postseason. The Caps have been playing that way all year.
There's a chance that this Caps team may make it to the Cup Finals and there's a chance they may go over the Penguins to do it. But after watching some of these Western Conference teams play their respective playoff series, I get the sense that most of them would treat the Caps in a seven-game series about the same way a speeding 18-wheeler treats a deer that wanders out into the highway. Their defensemen still stand around too much and watch opposing forwards, and this is a Habs team chock full of smallish forwards who aren't very physical. Most of these Western Conference teams are bigger, quicker and much sharper than the Habs have been.
On Versus tonight, Brian Engblom blamed Evgeni Nabokov for the Game Three loss to Colorado. I'll repeat. Brian Engblom blamed Evgeni Nabokov for losing a game, despite the fact that Nabokov's own defenseman inexplicably and needlessly put a clearing attempt on his backhand and wound up shooting the puck into his own net. Mr. Engblom, let's get Brian Bosworth's hair back to him first, and then we can work on the hockey talk.
We get a Versus night without Keith Jones and Mike Milbury. Versus makes up for it by not forcing Engblom to take a night off AND bringing Mike Keenan into the studio. Mike Keenan. Holy hell. Was Jim Schoenfeld busy or something? It's been more than fifteen years since he coached the Rangers to the Stanley Cup and I still want to hit Mike Keenan.
After watching Drew Doughty and Duncan Keith, there should be a rule stating that the words "Chris Pronger" and "prototypical NHL defenseman" should never again be mentioned in the same sentence.
Dear NBC, Got an idea. If you're going to insist on broadcasting hockey next year, how's about finding a way to get teams like the Kings, Canucks, Coyotes and Avs back on the network, eh? We know you love you some Red Wings and Blackhawks, so maybe just kick in for coverage when the Kings visit Chicago or when Phoenix heads back to Detroit. And we know you like to pretend Canadian teams don't exist, but maybe we could make an exception for Vancouver because they're relatively close to Seattle. More Western Conference teams; less Rangers.
Another idea, NBC. Whenever you DO decide to carry a Rangers game, how about putting Larry Brooks in between the benches instead of Pierre? And he's only allowed to interview Tortorella.
As they hopefully extend their playoff life into subsequent rounds, it's going to be interesting to watch Crosby if he continues this pace. If it were possible for Sid to upstage the 51-goal season he just wrapped up, his play so far in this playoff series is coming close to pulling it off.
go pens