did someone say free ass
If we had lives, the screenshot above
would have been an adequate recap of the game.
Anytime your top line gets all three stars and a combined 10 points in a game,
safe to say it was a pretty good night.
Kunitz
gets off his
schnide
.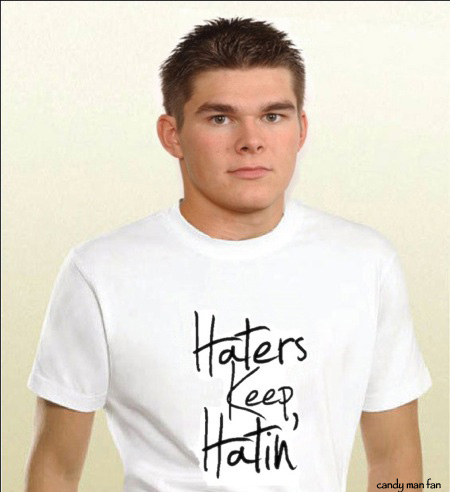 Montreal was either flat, tired, or their balls hurt.
Whatever the case, the Pens carried out Disco's business with military precision.
The best part about Sidney Crosby getting a hat trick
is hearing people say, "Where was
Malkin
?" And vice versa.
The Pens finished their recent
homestand
with 8 out of a possible 10 points.
And the end of the
homestand
overlaps with another section of the schedule:
5 games in 9 days, including the best part of the year, the West Coast trip.
From Montreal's perspective, what's worse right now?
-The
Habs
fan that probably overpaid to watch this game in person?
-Poor Hal Gill having to watch his boys pick his team apart?
-Or the lifeless, impotent Carey Price?
Unless you have some disease, life is great right now.
Pens are sick, and an all-Pens weekend is on the horizon.
Jump.
ANTHEMS:
curtO
, mike b,
mooch2348
,
joey
L,
adam
c.,
eli
, p
jackson
,
steve
k.,
InsertClip
,
lisarec
,
fido
,
lange
,
jerry
STUNNED:
FSN
was up to their old tricks again.
Very questionable
camerawork
, HD or no.
Chris
Bourque
had a chance early in the game. Chance = He was in the vicinity of a loose puck near the crease. We're trying to give the guy a chance. But we haven't liked him from the get-go. Maybe we're just pissed that the footage of Ray
Bourque
falling over the red carpet on the ice during the pregame ceremony to commemorate
Lemieux's
last game in Boston isn't on YouTube.
On one of the next shifts after that, Chris
Kunitz
carried the mail and crapped himself.
You could hear the collective groans of all the
Kunitz
Haters.
Guranteed
some dude at the game slammed his Coke down.
But The
Koon
gathers his shit, forces a turnover at the blue line, and jobs it to
Guerin
.
Guerin
with an underrated backhanded saucer pass onto Crosby's tape.
Genuflect.
How impressed is that kid? 1-0.

Matt Cooke went to the box. The Pens killed it.
With about 20 seconds left, Hal Gill flips one over the glass. Not our problem anymore.
FSN
showed Ray
Bourque
up in the box.
What they failed to show was
Lemieux
splitting
Bourque
and his wife in the hallway to beat them to their seats.
Attention, students of Cal…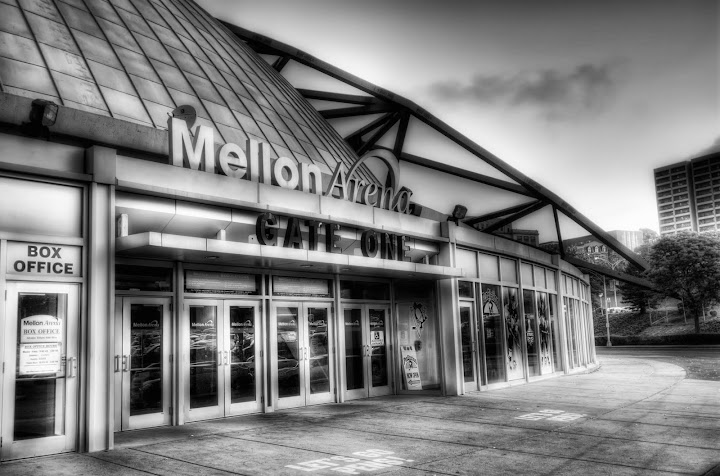 This
pic
is courtesy of
Talke
Photography.
We're told it's in a style called High Dynamic Range.
We call it sick as balls.
Click
HERE
for a large,
wallpaper-esque
version.
There are some unbelievable pictures at these sites:
The Pens refused to stop coming in the second period.
Kuntiz
lets go of a shot. Puck finds it way to Bing. Backhand, top shelf.
No idea why
Halak
was down.
2-0.
Did you go to those
Talke
Photography sites yet?
If not, you're doing yourself a disservice.
After the goal,
Habs
coach Jacques Martin calls the worse timeout of the young season.
Right after the timeout, the
Habs
take a penalty.
what is that girl doing
Pens wouldn't be stopped. Another Mike
Rupp
goal.
3-0.
Solid hands.
As the second period dragged on, the Pens got another one.
Crosby gets the HT with an unreal move. 4-0.
Hats fly.
They had to review the goal because it was so cash.
CCH
was too stunned after the shake and bake.
-props to JERRY for this
pic
–
Anyone remember an instance where a potential HT goal like this was called back?
UPDATE
—
Commenter
REGE
makes us feel sheepish in our memory skills:
"Last year at Chicago.

Toews

had a trick called back only to get his 3rd a few minutes later
and then watch

Geno

poo

on him in OT."
After Crosby's HT goal, it dawned on Bob
Errey
that
Kunitz
had 3 assists up to that point.
He did some quick arithmetic:
Guerin
and some joke go off for roughing.
Headcase
Carey Price enters the game. Such a far cry from his first start at the Mellon.
He looks like he could care less.
Habs
get a 5-on-3 and score.
Plejokec
.
4-1.
What's sad is that there's a
Habs
fan out there who smelled a comeback coming.
As has become custom this season, the third period was a mini
Fleury
show.
The opposition decides "oh shit, we're losing" and starts playing.
Uh-oh. 5-1.
If it wasn't cruise city before the
Gogo
goal, it was now.
Somewhere during cruise city, Crosby got the puck in the neutral zone.
He looked up, saw Hal Gill on his side of the ice, and turned on the jets.
Gill had no chance. Everyone knew it. Crosby blew past him.
Bing ended up doing his patented "I'm skating fast" wrist shot. Save.
Toward the end of the game, the Pens were on a power play.
The two
Habs
forwards decide to get caught.
Bourque
accidentally springs
Kunitz
on a breakaway from Heinz Field.
Kunitz
almost trips over the blue line, but he barrels in on Price.
Probably one of the worst goaltending moves in the NHL's modern era.
Kunitz
picks his spot.
6-1.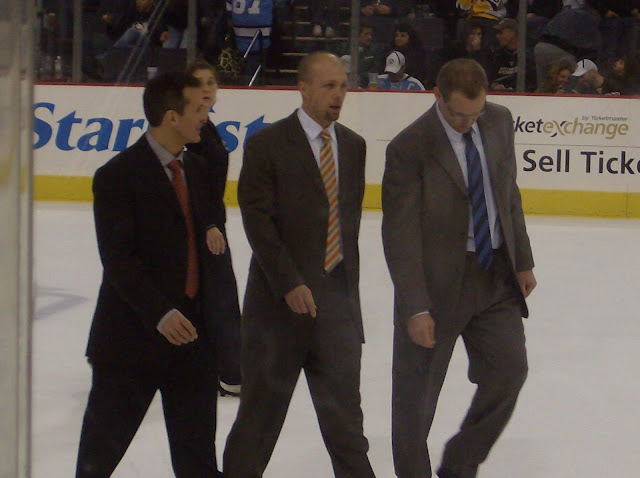 GAME.
MISCELLANEOUS
Pens are good.

Fleuryous

with the

pic

of the Three

Discoteers

.
Go to

Deadspin

and check out the excerpt from the book about NBA officiating. Interesting read.
Couple of announcements Thurs. night/Fri. morn. Nothing earth-shattering.