A playoff run is made up of moments. A Game 6 on the road is a separate moment altogether. For those who don't enjoy the NHL playoffs, you really can't explain it to them. But for those of us in it, the enormity cannot be measured.
There have been 10 instances where the Pens have played Game 6 on the road with a chance to clinch. They are 4-6 in those games.
A brief history:
Game 6 – April 24, 1975, Penguins @ Islanders, Result: LOSS
Limited Internet history on this one. Pens lost 4-1.
Game 6 – April 27,1989, Penguins @ Flyers, Result: LOSS
Pens lost 6-2. This was after Mario's stunning performance in Game 5.
The highlight video of the series features roughly 10 seconds on Game 6, so we assume it was shit.
Game 6 – May 25, 1991, Penguins @ North Stars, Result: WIN
This intro:
In a game that left even MacGyver stunned:
( 7:50 mark of this vid )
The Pens won 8-0. Cup City.
Game 6 – May 12, 1993, Penguins @ Islanders, Result: LOSS
The Isle was alive with madness. The Isles scored 25 seconds in. The game was a shootout, but the Pens never held a lead. Kasparaitis abused 66:
It was tied 4-4 at one point, and Tom Barrasso played like a complete asshole. Isles won, and everyone knows what happened in Game 7.
Game 6 – April 28, 1996, Penguins @ Capitals, Result: WIN
This is the only visual evidence of Game 6 in Washington:
EJ got hit the head with a puck but coached the entire game. Pens won 3-2 in Cap Country. This series featured the 4-OT Nedved classic.
Game 6 – May 30, 1996, Penguins @ Panthers, Result: LOSS
This series was a complete circus with Panther fans throwing rats onto the ice after every goal. Game 6 was no different.
Game 6 starts around the 28-minute mark:
The Penguins got screwed early in this one when the officials allowed a goal on a delayed Penguins penalty, despite Barasso touching the puck. Penguin goal scorers: Kevin Miller, Joe Dziedzic, Sandstrom.
Florida won the game on a Rob Niedermayer goal. Marty Straka also scored.
Dan Marino rooted against the Penguins:
Fucking rats:
Game 6 – April 25, 2009, Penguins @ Flyers, Result: WIN
Forever the Talbot Shhh game. Our Recap: Orange Hush
The Penguins stormed back from a 3-0 hole after the Talbot fight. Gonch got the GWG. Crosby closed up shop.
Game 6 – April 24, 2010, Pens @ Senators, Result: WIN
No one talks about this game for some reason. Our recap: And Justice for All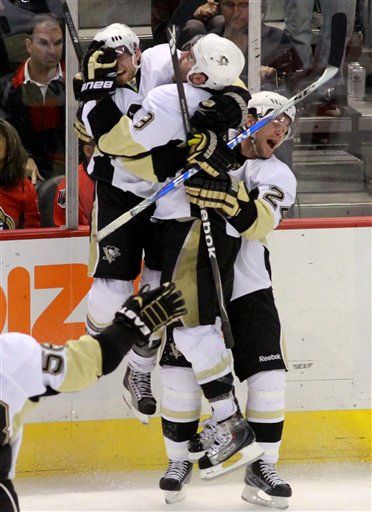 The Penguins again fell behind 3-0. They battled back to tie it, thanks to two huge goals from Matt Cooke. The game featured three video-replay reviews.
It slipped into OT, and Dupes won it:
Game 6 – May 11, 2010, Penguins @ Canadiens, Result: LOSS
This game still haunts us. Didn't even really do a recap: Oh Shit.
Mike Cammalleri scored 90 seconds in.
Marc-Andre Fleury just could not make a save in this series.
The Pens had a 2-1 lead in this game. They hit three posts in the second period. Then the Habs scored two goals back-to-back to take a 3-2 lead.
Then Go-Go got undressed.
Just awful.
Game 6 – April 25, 2011, Penguins @ Lightning, Result: LOSS
Our recap: Into the The Seven Depths of Hell
Penguins led this game early, as well.
Chris Conner had his penalty shot in this one:
Pens had it tied late, but Downie scored. Of all the Game 6 losses, this one was mild.
Game 6 – May 11, 2013, Pens @ Islanders, Result: Buckle Up