For the last six years we've written a season preview about the Pens. ( Obviously)
We have to fill a void somehow so we'll just post old season previews today, and the rest of week.
:::::::::::::::::::::::::
"In every adversity there lies the seed of an equivalent advantage.
In every defeat is a lesson showing you how to win the victory next time." – some guy.
Speaking only for ourselves, this pic above does not bother us.
Somehow we were over the Montreal loss in like a week.
Don't get us wrong; Montreal burying the Pens' season and burying Mellon Arena was tough.
But it was almost — and it's weird to say — a relief.
Deep down we knew the Pens weren't good enough last year.
Which makes it all the more remarkable that they came within a game of a third straight Eastern Conference Final.
All season long there was no momentum.
They definitely didn't go limping into the playoffs, but it wasn't exactly guns blazing either.
The moves that Ray Shero had pulled off year after year finally caught up with him.
Ponikarovsky, as time goes on, will be remembered as a colossal disaster.
Then again, Luca Caputi didn't even crack the Leafs' lineup for opening night this year.
Jordan Leopold. Let's not even talk about it.
Jay McKee came on the cheap, so you couldn't complain about him.
Last season can be summed up so many different ways.
But, to us, last season may end up being one of the most important in the Ray Shero era.
Shero strikes us as a man that doesn't particularly enjoy making mistakes.
He's that guy who gets sold a bad car by some used-car salesman.
He knows it's a bad deal, but he needs a vehicle to get to work and back.
So he remembers the guy. And after the car breaks down, he sells its parts.
Then he uses the car-parts money to buy some unreal stock.
The stock soars, and he buys the car dealership where he bought the car. He also buys a camel.
He then, every morning, makes the guy who sold him the car lick his camel's balls.
Looking back on the summer after the Cup win is tragic.
-Who the hell could have predicted that Fedetenko would completely fall apart?
-That no one would be able to replace Rob Scuderi and/or Hal Gill?
-That Malkin would have a so-so season after showing the chemistry he had with Tenk during the playoffs?
And now a year removed, it all makes sense.
The Penguins didn't get better in preparation for last season. They stayed status quo.
And this is what happened.
Without any new blood, the Pens just didn't have that feel last year.
Can't explain it, but if you've followed hockey, you know.

Fast-forward to July 2010.
Shero starting reacting to the lessons he had learned.

He knew that he had to solidify the defense, first and foremost.
$50 millon later, he did.

He followed that up by hiding in the cut for a while.
Then, on two Fridays when no one was watching, he signed Arron Asham and Mike Comrie.
Two guys that not only are vital cogs, but they want to win a Cup.
Vintage Shero moves.
So when August came around, he was handing an improved roster to Dan Bylsma.
Not sure what else you can ask of a general manager.
From the first day of training camp, the team was faster and more fit to play Bylsma's style.
A 5-1 preseason backs that up. This team has a much different feel.
Can't explain it, but if you've followed hockey, you know.
There's more anticipation surrounding this upcoming season than any we can remember.
Some of that has to do with the new CONSOL Energy Center. Some of that has to do with how last season ended.
But a bulk of this anticipation stems from this year's Penguin team having one of the best up-and-down lineups in recent memory. More specifically, this year's blue-line corps is one of the best in the NHL — and this happened after Gonchar left? Yes.
It can easily be debated that the Pens may not have one of the best lineups in recent memory because they don't have the winnnnnnnngers for Sid. Wah. They didn't win the Cup with Hossa and Malone and Sykora. They won the Cup with Kunitz and Guerin. But more importantly, they won the Cup with Hal Gill, Rob Scuderi, and Dan Bylsma's decision to roll 7 defensemen throughout a bulk of the Cup run. When playoff time comes around, if you have Crosby, Malkin, and Staal lurking, it's up to your defense to hold the line. Last year's defense didn't. This year's will.
50 wins are happening. Winning the division is happening.
This team is already built for the playoffs.
Shero will observe and make the team better in February.
And the best part about that? The answer to making the team better could easily be in Wilkes-Barre.

Not much more needs to be said.
A friend of ours summed it up best when he said he felt the urge to uncontrollably weep when he walked into this building.
We'll miss the Mellon. No, we won't.
The Game 7 stains from Volek and the Panthers were too overwhelming anymore.
CONSOL gives us a new start, new experiences…
And new traffic getaways to get onto the Parkway in 7 minutes.
Yes, it can be done.

Ron Burkle
That is Ron Burkle's house. No lie.
Let's just move on. Jesus.
Mario Lemieux
Ownership is pretty okay.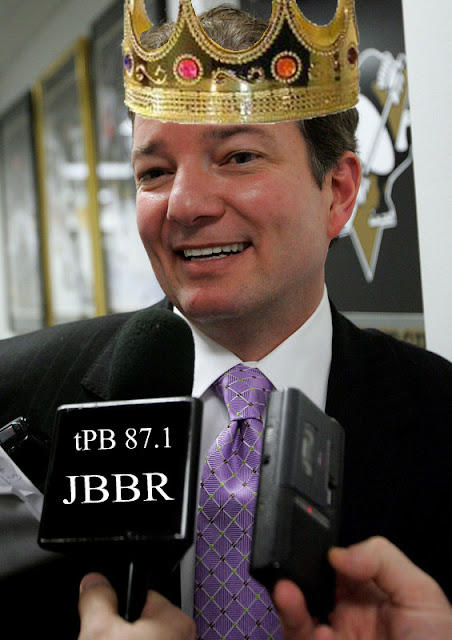 This guy was given two all-star-caliber centers and a young core of talent.
He's delivered playoff appearances and a Cup.
He's better than us. He's better than you.
Hard to job Bylsma's first full season as a coach. But message-board posters and Ron Cook are champing at the bit for Byslma to give them something to bitch about. With the weapons he has at his disposal, he can employ his system to the fullest.
Supervillian Granato is also back.
The other new coach doesn't need to have his name mentioned.
We'll hear it enough when he gets blamed for the powerplay struggles.
Let him have some peace.
Given how this year's team is built, it's only fitting to preview from the net out.
Exit stage right: Sergei Gonchar, Jordan Leopold, Jay McKee.
Enter stage left: Zybenek Michalek and Paul Martin
Real quick.
Bob Griese responds to people saying they're happy Gonchar is gone.
Ah, but the Pens have improved on the blue line.
They just need a power play QB. They'll find it.
Can't get much worse than last season's power play.
Zbynek Michalek will probably end up being our favorite player. He already is.
Picture Rob Scuderi's steady play…and then add size, vision, breakout passes, and legs.
Did we mention size?
It's always tricky trying to predict what a New Jersey defenseman is going to do in a wide-open system.
Paul Martin has a scoring touch, and his time in New Jersey has taught him to play in your mouth.
Ray Shero threw all his money at these guys. He didn't do it just because he was bored.
Orpik is a beast. It's been great watching him improve year after year.
He's cut down on some bad positioning and gives out candy.
We want Kris Letang to score 80 goals every year. Turns out that isn't gonna happen.
His occasional snipe jobs have given people delusions on what Kris Letang can do.
He's by no means a liability on the blue line, and the guy is still 23 years old.
Shero has paid for his potential, as Letang will be making $3.5 million a year for the next couple years.
In that case, he better score more than the 3 goals he put in last year. But he's not Bobby Orr.
Goligoski — Another guy who's size and playing style suggest he should be scoring 20 goals a year.
His college numbers would have put him on pace for 20 goals in an 82-game season.
But it's the NHL now. He should be good for 10 goals a year.
Engelland/Lovejoy
Guess what. We've personally seen these guys play maybe 5 games.
It'd be irresponsible on our part to give ourselves a boner talking about them.
So we won't.
So, the Pens have five solid guys, and then the unknown.
We still stand by our assertion that this is one of the best blue lines in the NHL.
Would love to see an NHL blue line touting six proven, good d-men. Ain't happening.
If you want to try to find those 6 d-men, though, start with last season's playoff teams.
That's where they'll be.
Gone with the sac: Billy Guerin, Ruslan Chernobyl, Alexei Poopstain
Here now: Mike Comrie, Arron Asham
Mark Lestestu
Guy got a chance in the playoffs last year.
Then he got a chance in the preseason this year to make the team, and he took it.
Things are going to change with the Penguin lineup, but the player known as Test Tube will be around for the long haul.
Guy is always in the right place. Wears #10. Huge shoes to fill there.
Eric Tangradi
True story: Tangradi is one of the more entertaining players to follow on Twitter. During the summer he had a Wednesday night trivia contest for his followers. The only people we want Tangradi talking to on Wednesdays is other goalies when he asks them if they can see. When they say, "no," Tangradi says, "Good, now die," and points at the goalie's girlfriend in the stands after the puck goes in.
The Big Dog's gotta eat.
Craig Adams
All you need to know about Craig Adams is that he didn't score a goal the entire season last year.
Then in the first playoff game he roof-jobbed one against the Sens. Guys like Craig Adams win championships.
Arron Asham
Probably one of our favorite Shero moves in a while. Asham is another guy that you need to have on your team to win.
In our opinion he was one of the better Flyers during the second half last year. He is also a dick.
Matt Cooke
Matt Cooke spent the offseason turning the lights off and on in Marc Savard's bedroom.
Cooke and Asham on the same line is like the opponent eating a herpes-and-aids sandwich.
And then washing it down with a Red Bull and cocaine.
Pascal Dupuis
If there was a courtroom to hold such cases, you could argue that Dupes would have been a good MVP candidate for the Pens last year if Sidney Crosby wasn't alive. He scored some huge goals and clinched the Ottawa series.
He is in a contract year.
Chris Kunitz
A healthy Chris Kunitz is good for everyone. He is the centerpiece for Dan Bylsma's style of play.
He can score when he needs to. You know about Chris Kunitz. Nothing more to say.
Tyler Kennedy
Whipping boy alert.
He's not in the Chris Bourque category by any means, since he can actually score.
But…the season where he had mono was better than last season.
Could become dog food.
But we're pulling for him. He's a son of a bitch.
We'll never forget the goal he scored at the beginning of third period of Game 6 to put the Pens up two goals.
Huge goal.
Mike Rupp
Mike Rupp did everything we thought he would last year. He's mean and he can skate.
He scores, too, which makes him the complete opposite of Eric Godard
Eric Godard
Props to Nate B. for this.
Max Talbot
Sorry, Max Talbot was joke city last year.
Maybe the Pens should put a camera around the net so he'll go there more.
Mike Comrie
It took us a few minutes to get past the fact we used to hate Mike Comrie. But make no mistake about it: this could go down as one of Ray Shero's best moves. By all accounts, Comrie had a good camp and, from what we saw, looked really good. He is a legit 25-goal guy and will instantly help Malkin or Bing. Kind of pumped about it.
And then looked at a couple more times.
Effective immediately, we are instituting the FSN Hilary Duff Watch.
If they show her more than 10 times, we will throw garbage on Paul Steigerwald's lawn.
This isn't Hollywood. Nobody cares.
Jordan Staal
So weird talking about the Pens and then forgetting about Staal.
Staal is out with a foot issue for the first month. What's the big deal?
Marian Hossa didn't come back until November for the Hawks last year. It probably helped him.
When Staal does return, hide your kids, hide your wives, and hide your husbands.
Malkin and Crosby
All that's missing during their reign is one complete season where both are in your mouth every night.
Either Crosby's injured and Malkin leads, or Malkin's injured and Crosby leads.
Make up your minds.
And that's it.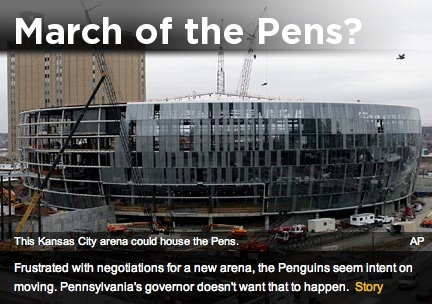 Go Pens. Drop it.